Tips on finding quality
Dachshund puppies for sale

What is the best way to find quality Dachshund puppies for sale, firstly buy from a reputable Dachshund breeder ?
A reputable breeder should provide you with the puppies' pedigree and health records.

The breeder may get you to sign a sales contract that obligates you to return the dog if you can no longer care for the dog any time during its life.

Avoid back yard breeders or flea market sellers as you may never know what you may be getting or know the true pedigree of the puppy.
When looking at dachshund puppies for sale, a reputable breeder should let you visit their kennels and show you all their dogs and puppies that they breed.
Each puppy is an individual and the breeder will be able to advise you on the puppies personality and that of the parents, you need to choose carefully to ensure you and the puppy will be happy.
There should not be any payment made what so ever, until you have picked your puppy, when looking at dachshund puppies for sale. And when you purchase your puppy most breeders will get you to sign a sale contract.
There is quite a variation in the cost depending on the breeding, puppies from Breed Champions, also fully registered puppies for breeding will cost more, most puppies are sold as pets and responsible breeder may ask you to get the puppy neuter/spayed and may even be in the sales contract.
Pictured below is a cute English cream puppy from The Doxie Spot.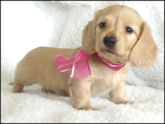 More tips on finding quality Dachshund puppies for sale
Puppies need to be at least 8 weeks old.
You should meet the breeder, meet the puppy's parents if possible and see the puppy's environment.
The puppy should be well socialized, preferable raised in breeders home.
Puppies should be alert, interested and want to play and cuddle. 
Good strong build with bright alert eyes.
Some breeders with dachshund puppies, prefer to choose a suitable puppy for your particular family, rather than let you pick from the litter, they know the puppy's temperament best. But ideally you should pick your puppy.
Health Check

Check if there are any health issues, and what health certificates are available for the puppy's parents.
Inquire what vaccinations have been given?
Check on the breeder's flea and worming routine?
Inquire if you can get your puppy vet checked before you purchase.
Take a good look at the puppy ensure it has all its toes, both eyes and ears are the same shape and size. Inspect the front and hind legs to ensure they aren't excessively bowed legged.
Handling Puppy

Ensure you get to play and handle the puppies but to be careful and make sure you support their backs when picking them up. How does the puppy react by begin picked up, does it squirm to get away from you or wriggle and squirm as it enjoys the attention?
Has the puppy received any training?
Guarantee

Inquire what guarantees are given with the puppy?
If interested in a puppy but unsure as to buy or not, ask the breeder if you can put a hold on the puppy for 24 hours or 48 hours while you decide. The breeder may want you to put a refundable deposit down while you decide. If still unsure wait, as there will always be another litter of adorable and lovable doxies.
Avoid impulse buying especially at pet stores or flea markets unless you are really sure you want a puppy.
---
To find a puppy that may suit - visit our breeders page.
Most breeders with dachshund puppies for sale, may not have puppies always available, often it is necessary to go on a waiting list.
Finding cute puppies to suit your lifestyle is very important. Each puppy is different and requires suitable care, training and a name that fits their unique personality.
Other pages of interest
Choosing a small dog - perhaps a dachshund
Return to home from tips for finding dachshund puppies for sale

The information given on this site,is compiled from our
knowledge and research and is designed to supplement
not replace your vets or other professionals advice.

Copyright 2019 All rights reserved
www.dachshund-owner-guide.com

Solo Build It!