The Dachshund Owner Guide Blog
Welcome to the Dachshund Owner Guide Blog.
This is the place to view all our latest articles, information and visitor submissions from the site.
New pages are being added on a weekly bases so please come back as often as you like.
It's easy to miss out on something new on the site, so why not subscribe to our RSS Feed, which you can find at the bottom of the menu bar on the left.
Hope you enjoy the website and have a dashing good day with your dachshund.
Aug 29, 2019
Zippy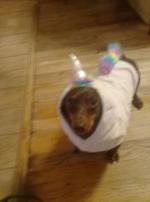 Our little Zippy dog is a fun but very shall we say, feisty doggo! He thinks he's much bigger than he actually is and has zero problems picking a bone
The information given on this site,is compiled from our
knowledge and research and is designed to supplement
not replace your vets or other professionals advice.

Copyright 2019 All rights reserved
www.dachshund-owner-guide.com

Solo Build It!