Dachshund Colors with many variations
how do you choose.
There are more dachshund colors and patterns than most other dogs and sometimes it can be difficult to decide on the dachshund's correct color classification.
When describing the coat colors the dominant color of the dachshund is called the color, a pattern is sometimes superimposed over the color.

Unusual or rare colors are sometimes bred by unethical breeders and are subject to genetic defects this breeding is to be discouraged as the colors are not acceptable for the breed standard.
Dachshund Patterns
There are also several different patterns that appear in the dachshund breed such as piebald,brindle,sable and dapple.
Dachshund Colors
Red range from light chestnut to deep mahogany.Pictured below is Gracie a lovely red smooth haired dachshund from Alabama Dachshunds.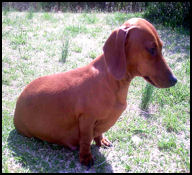 Below is Ginger a gorgeous chocolate based red long haired from Grendox Dachshunds.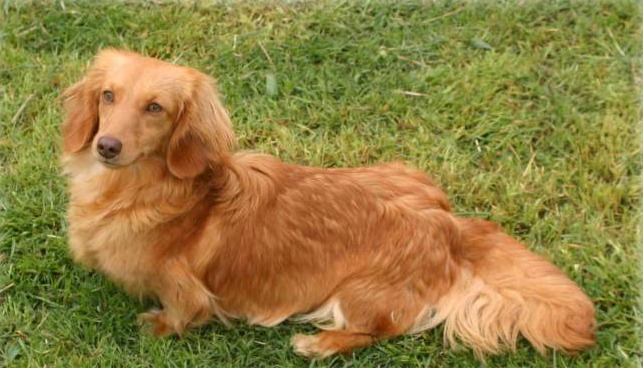 Cream can be from buff to butter color. True creams should have dark noses. Pictured below is a beautiful cream long haired dachshund from Cedarhurst Ranch Dachshunds.
Wheaten is between red and cream and is as the name suggests light yellow the color of wheat. This color is common in wire haired dachshunds.Pictured below is a real character,Maggie a wheaten wire haired dachshund from KC'S Miniature Dachshunds.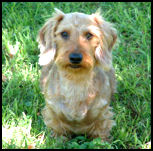 There is a number of interesting dachshund colors Wild Boar is such a color, this color is typically seen in the smooth haired and the wire haired. Each hair showing colors such as red, brown and black.Pictured below is a wild boar wire haired dachshund.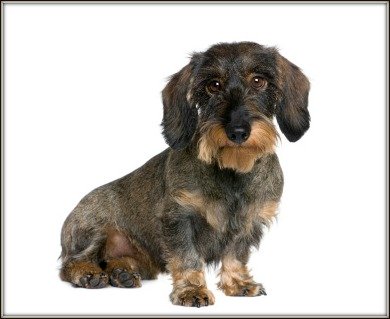 Black and tan are mostly black with tan points. These points are tan color on all or some of these areas muzzle, over eyes, feet, part way up the legs and base of tail. This is Beyonce a lovely black and tan, from Grendox Dachshunds.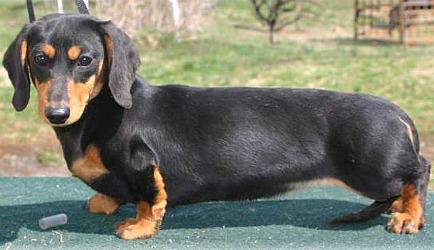 Chocolate and tan, these dogs have chocolate brown where the usual black would be on a black and tan and the chocolate can be from light to very dark in color, with tan points.Pictured below is a cute little chocolate and tan puppy,from Diamond Doxies.
Chocolate and cream is chocolate all over with cream points and light brown or hazel eyes, brown nose and nails. Pictured below is Rocky a chocolate and cream long haired from Grendox Dachshunds.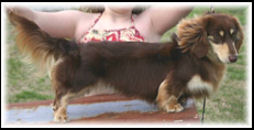 Chocolate this color can range from light to dark chocolate.
Black these dogs will be black all over no points. Pictured is a cute black puppy.

Black and cream these dogs are mostly black with cream points. This is Spice a smart long haired black and cream, from Grendox Dachshunds.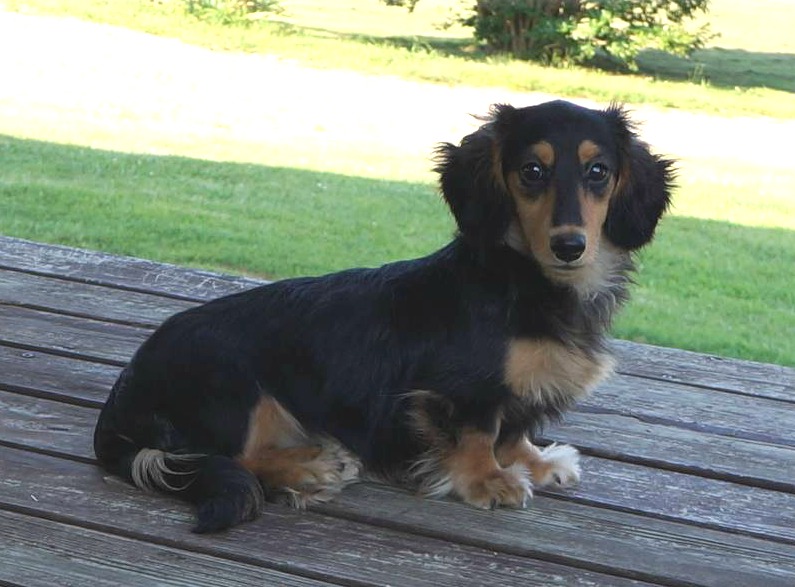 Blue and tan is a smoky grey color with tan points with grey eyes, nose and nails. Pictured below is Blueberry a blue and tan doxie. 
Fawn (Isabella) and tan is very light chocolate color with tan points also with grey eyes, nose and nails.Pictured below is Hugs an Isabella and tan doxie from Doxie Dogs.
White may sometimes appear on the chest, feet, tail or stomach.
Other pages of interest
Piebald,Brindle,Sable - Patterns

Return from dachshund colors to home page
The information given on this site,is compiled from our
knowledge and research and is designed to supplement
not replace your vets or other professionals advice.

Copyright 2019 All rights reserved
www.dachshund-owner-guide.com

Solo Build It!