Wolfgang
by Carmen
(Terry)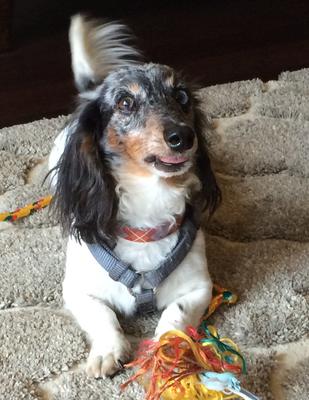 Our Wolfi is about seven years old. He was a rescue and we feel very blessed to have him. He is a little sweetheart. Very sweet and affectionate. He likes to have pictures taken, and he will pose. His favorite toy is an old dirty tennis ball. He has three more dachshund siblings and he is very easy going.
We take him along when we are traveling, even flying.
Join in and write your own page! It's easy to do. How? Simply click here to return to Share your most lovable Dachshund Picture.
The information given on this site,is compiled from our
knowledge and research and is designed to supplement
not replace your vets or other professionals advice.

Copyright 2019 All rights reserved
www.dachshund-owner-guide.com

Solo Build It!